SailWhirlwind.Com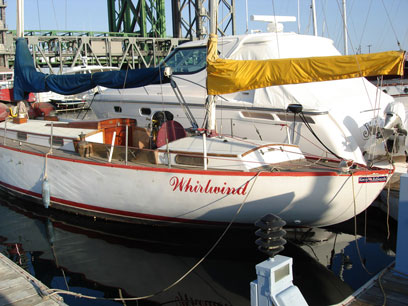 WHIRLWIND is indeed a unique sailboat. Designed by Wm. Garden for Dr. Blalock of Dana Point, she was built in the Costa Mesa yard of Chapman and Kalayjian. Launched in 1955 WHIRLWIND is a very fast boat. Her double ended design, strip planked construction, and ahead of her time keel design created a special sailboat.

From the archives of the Mystic Seaport Museum I have obtained copies of the original blueprints. I have also response, written in his own hand, from Mr. Garden himself regarding my inquiry to him about the history of WHIRLWIND.

Since I acquired her in 2001 I have invested about 1000 hours in her renovation. I am intimately familiar with the areas still in need of attention for a complete renovation and will share an itemized list and renovation choices with someone genuinely interested in acquiring this vessel. She is currently berthed in Wilmington, CA.

The motive behind selling her at this time has nothing to do with her condition or prospects. Rather, I have 4 other wooden sailing vessels, and must reduce my "fleet" as none of them are receiving the full attention that they deserve. All of these sailboats are for sale.
---

One off 45' garden yawl. Built in 1945, I have provenance and blueprints for the boat. It is very fast. Double-ender, strip-planked, and has lots of sails.


Asking $60,000.00 For Details call 916-847-9064

Steve Barber
Email: steve@paradigmpilgrim.com




Photo Gallery

Blueprints (pdf)


My other boats for sale:
www.sailk38.com